Adaptive Management
Adaptive management is a science-based, structured approach to improving our understanding of the problems and uncertainties of environmental and water management. The Delta Science Program provides science support to other agencies and organizations that are planning and implementing adaptive management. Our objective is to support science that will improve environmental decision-making under uncertain conditions in the Delta.
Adaptive Management Consultation
The Delta Science Program works directly with a number of federal, state, and local agencies that plan and implement ecosystem restoration and water management projects, and also works with partner agencies and NGOs on the development of tools and frameworks to aid adaptive management.
The Delta Science Program Adaptive Management Liaisons are available to consult with project proponents directly and provide advice on their adaptive management efforts.
Services of the adaptive management liaisons include:
Provide advice on the availability of models, regional monitoring activities, and relevant research
Help with integrating individual adaptive management projects, plans, and programs across the Delta system
Provide consultation on use of best available science and adaptive management with respect to Delta Plan consistency
Provide advice on potential active adaptive management experiments, including advice on potential funding avenues and on connections with other relevant research
To get in touch with a Delta Science Program Adaptive Management Liaison, please contact Karen Kayfetz at Karen.Kayfetz@deltacouncil.ca.gov.
Interagency Adaptive Management Coordination
The Interagency Adaptive Management Integration Team (IAMIT) is convened by the Delta Science Program to discuss and coordinate strategies for implementing adaptive management for Delta conservation efforts.
The IAMIT is made up of scientific and technical staff from local, state, and federal agencies, and key stakeholder groups. It serves as a technical team that provides input and guidance on current and future adaptive management at a high level that crosscuts individual agency missions. The IAMIT's activities are guided by the April 2019 Delta Conservation Adaptive Management Action Strategy.
Learn more about the IAMIT and its web page.
Adaptive Management Forum
The Delta Science Plan and the Delta Independent Science Board both call for regular Adaptive Management Forums to promote coordination and learning and foster discussions about implementing adaptive management in the Sacramento-San Joaquin Delta. Hosted by the Delta Science Program, the biennial Adaptive Management Forum provides an opportunity for the Delta community to share knowledge and promote collaboration on adaptive management of the system.
The 2021 Adaptive Management Forum
The 2021 Adaptive Management Forum will be held virtually February 3-5, 2021. Download the save the date flyer in PDF format.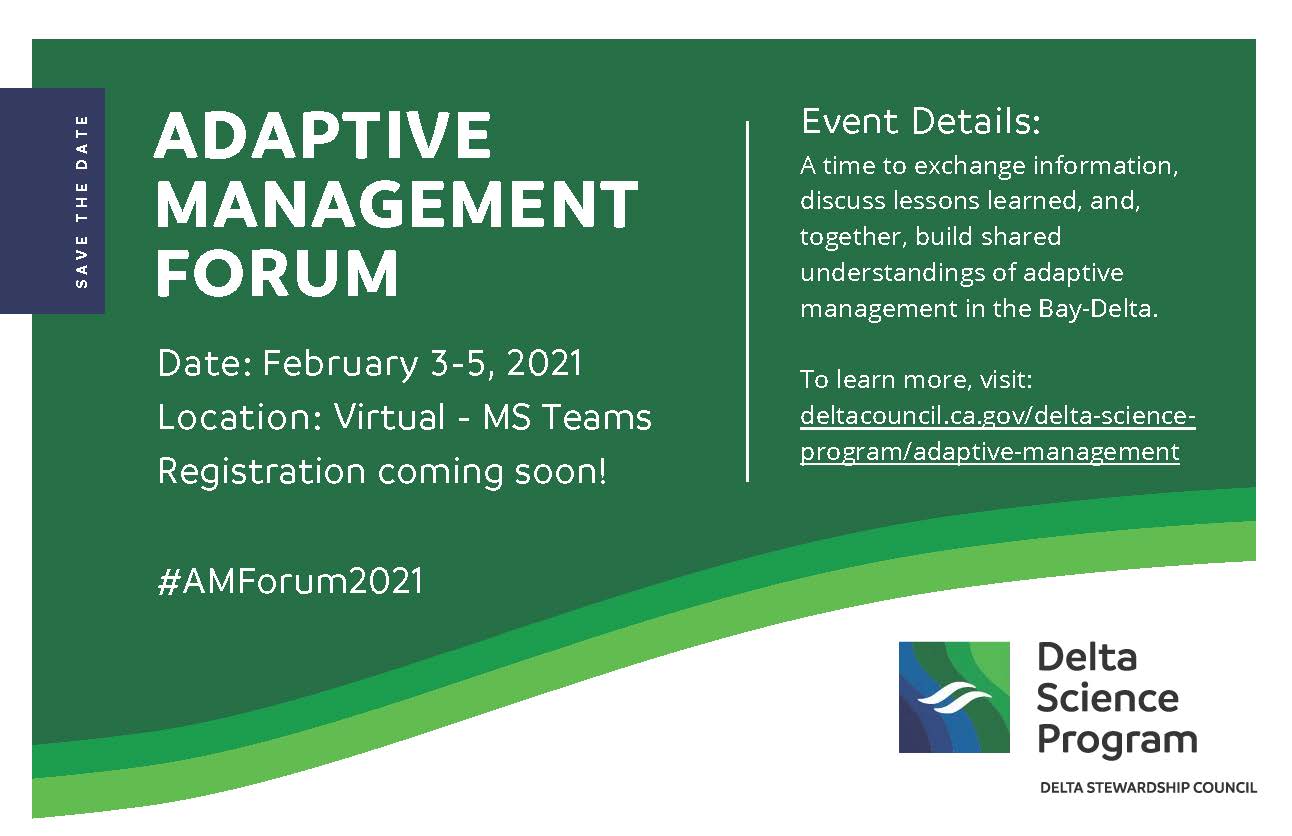 The goals of the 2021 Forum are to:
Synthesize lessons learned from prior ecosystem restoration and water management projects and research efforts.
Foster information sharing about adaptive management.
Strengthen science-management interactions by connecting decision-makers, practitioners, stakeholders, and scientists.
Stimulate dialogue around a shared vision of adaptive management.
The Forum will feature morning sessions with presentations by invited speakers, followed by Q&A and breakout discussions. Interactive afternoon workshops on February 3 and 4 will provide opportunities for Forum participants to receive hands-on training focused on specific adaptive management tools and practices, including adaptive management and monitoring plans, permitting, and the new Delta Landscapes Scenario Planning Tool.
The 2019 Adaptive Management Forum
The first Adaptive Management Forum was held February 5-6, 2019 at the UC Davis Conference Center. It consisted of talks, panels, and breakout sessions focused on ecosystem restoration and adaptive management support in the Sacramento-San Joaquin River Delta. Watch a recording of the 2019 Adaptive Management Forum.
Questions?
Please direct questions to adaptivemanagement@deltacouncil.ca.gov.