Bay-Delta Social Science Community of Practice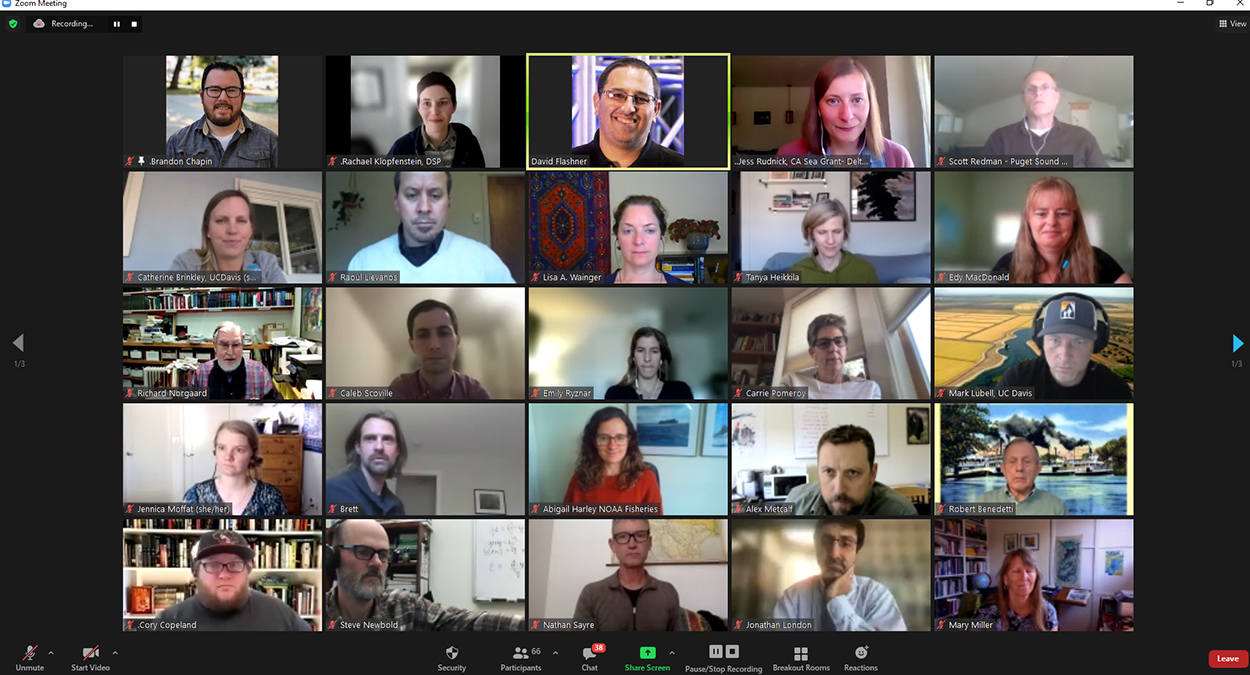 Following recommendations from the Delta Social Science Task Force May 2020 report, A Social Science Strategy for the Sacramento-San Joaquin, the Delta Stewardship Council is helping to develop a more collaborative and integrated network of social scientists and practitioners across the San Francisco Bay and Sacramento-San Joaquin Delta system.
At the 2021 Bay-Delta Science Conference, hosted by the Council and U.S. Geological Survey, we launched the social science community of practice (CoP). The Council's Social Science Integration Team produced a report to capture the key takeaways from the event, including who the CoP will involve and what social science activities and topics will be prioritized.
The CoP will reconvene for an October 14 training and October 20 workshop. View the flyer for more information and to register.
The purpose of the CoP is to bring together social science scholars, practitioners, and allies who are committed to advancing applicable and relevant research on the human dimensions of the Bay-Delta.
This community aims to:
Facilitate collaborative social science research and interdisciplinary investigation,
Provide opportunities for the social sciences to inform management and policy, and
Advance our understandings of the estuary as a complex social-ecological system.
Increase the body of social science research relevant to the region by conducting original data collection and investigation; developing and expanding conceptual frameworks linking the social and ecological dimensions of the estuary; and analyzing, reviewing, and synthesizing existing data and relevant comparative data
Foster collaboration and co-production of social science by linking academia, agencies, tribes, non-governmental organizations, and communities across the region
Communicate social science approaches, theories, tools, methods, and results to public, scientific, and governmental audiences to build literacy for the social sciences and understanding of the human dimensions of the region
Inform management and policy with best available social science through frequent engagement and participation in decision-making venues across multiple scales in the region
Provide mentorship and leadership opportunities for students and early career scholars and practitioners interested in working on the social sciences in this region
Build the social capital needed to thoroughly integrate social sciences into a system that is heavily dominated by natural and biophysical scientific knowledge and approach, ultimately striving for a balanced social-ecological systems approach to management and policy
Expand partnerships with other estuarine systems around the U.S. and internationally to learn, share and build improved understandings of social science integration and interdisciplinary science-based natural resource management decision-making
View the CoP's Charter in PDF format.
Diversity in network: recruit, attract, and support members from diverse backgrounds, career stages, geographies, disciplines, and institutions
Equity, inclusion, and capacity building throughout all network activities: distribute opportunities for leadership, intellectual, and creative contributions between early, mid, and late-career members
Boundary spanning: aim to build relevant, salient, and credible projects through co-production; foster collaboration on projects by engaging members from across academia, government, non-governmental organizations, and practitioners working in communities; prioritize accessibility in science communication and output products
CoP members are based in academia, government agencies, non-governmental organizations, and the private sector. Members opt-in to be included in our online CoP directory to facilitate easier connection and collaboration.
Name
(First Last)
Email
Affiliation
(Organization, Department)
Expertise/ Discipline
Areas of Focus
Links to professional platforms
Abigail Harley
abigail.harley@noaa.gov
West Coast Regional Office NOAA Fisheries
Economics
Regulatory economics
https://www.fisheries.noaa.gov/about/west-coast-region
Adina Paytan
apaytan@ucsc.edu
UC Santa Cruz
Education
Biogeochemistry, climate, ecosystems, education
https://ims.ucsc.edu/
Ajay Singh
Singh@csus.edu
California State University, Sacramento
Social psychology, behavioral economics, policy studies
Agriculture, water resources, climate change, endangered species
Singhsajay@gmail.com
Brett Milligan
bmilligan@ucdavis.edu
UC Davis
Landscape Architecture/Human Ecology
Landscape architecture, urban design, sustainable environmental planning
https://humanecology.ucdavis.edu/brett-milligan
Caleb Scoville
caleb.scoville@tufts.edu
Tufts University
Sociology, political science, political theory, economics
The politics of environmental knowledge, sociology of knowledge, sociology of science and technology, political sociology, social theory
http://calebscoville.com/;
https://as.tufts.edu/sociology/people/faculty/caleb-scoville
Darcie Luce
darcie.luce@sfestuary.org
San Francisco Estuary Partnership
Anthropology
Environmental Anthropology
https://www.sfestuary.org
Don Hankins
dhankins@csuchico.edu
California State University, Chico
Geography, conservation, and environmental planning
Ecocultural equality, restoration, conservation, Indigenous stewardship, policy
@Pyrogeographer - Twitter handle;
https://www.csuchico.edu/geop/department/dhankins.shtml
Erik Vink
erik.vink@delta.ca.gov
Delta Protection Commission
www.delta.ca.gov
Josue Medellin-Azuara
jmedellin-azuara@ucmerced.edu
UC Merced
Environmental Engineering
Hydro-economic modeling for management and policy, water management, agricultural production adaptation for climate change, sustainable agroecosystems, water informatics, impact analysis
@JosueMedellin - Twitter handle;
https://engineering.ucmerced.edu/
Kathleen Schaefer
kkschaefer@ucdavis.edu
UC Davis
@Q100lady - Twitter handle
Kelly Biedenweg
kelly.biedenweg@oregonstate.edu
Oregon State University
Human Dimensions of Fisheries and Wildlife
Conservation psychology and human wellbeing, human dimensions of natural resource management, program evaluation and facilitation, environmental education, social learning
kellybiedenweg.weebly.com;
https://fwcs.oregonstate.edu/users/kelly-biedenweg
Lindsay Correa
lindsay.correa@water.ca.gov
California Department of Water Resources
Regional climate change
Environmental policy and management
https://water.ca.gov/Programs/All-Programs/Climate-Change-Program
Mark Lubell
mnlubell@ucdavis.edu
UC Davis
Political Science, Environmental Science
Governance, water management, sustainable agriculture, adaptive decision-making, climate change and local government policy, transportation behavior, plant disease management and invasive species, social network analysis
@envpolicycenter - Twitter handle;
https://environmentalpolicy.ucdavis.edu/
Mark Nelitz
mnelitz@essa.com
ESSA Technologies Ltd
Adaptive Management
Adaptive management, human dimension surveys, conceptual modelling, behavior models, decision theory
https://www.linkedin.com/in/marc-nelitz-347776b6/;
http://www.essa.com/
Megan Wheeler
meganw@sfei.org
San Francisco Estuary Institute
Resilient landscapes
urban ecology, social-ecological systems
Mike Antos
mike.antos@stantec.com
Stantec and UCI Anthropology
Geography, Civic Ethnography
Environmental governance, transition management, integrated water management, climate adaptation
www.linkedin.com/in/mantos
Pam Rittelmeyer
pamrittel@gmail.com
UC Santa Cruz
Human geography, environmental policy
Climate change adaptation, risk perceptions
pamrittel@gmail.com
Philip Garone
pgarone@csustan.edu
Stanislaus State
History
Environmental history and ecology, global climate change and history
https://www.csustan.edu/history/Garone;
pg.envhist@gmail.com
Robert Benedetti
rbenedetti@pacific.edu
University of the Pacific
Political Science
Rosemary Kosaka
rosemary.kosaka@noaa.gov
NOAA Southwest Fisheries Science Center
Fisheries Ecology
Economics
https://www.fisheries.noaa.gov/about/fisheries-ecology-division-southwest-fisheries-science-center
Steve Newbold
snewbold@uwyo.edu
University of Wyoming
Economics
Environmental economics, natural resource economics, econometrics, ecological modeling
http://www.uwyo.edu/economics/faculty-staff/stephen-newbold/index.html
Tanya Heikkila
tanya.heikkila@ucdenver.edu
University of Colorado, Denver
Public policy, institutional analysis, environmental governance
Collaborative governance, environmental conflict, water governance, energy politics
@tanyaheikkila - Twitter handle;
https://publicaffairs.ucdenver.edu/people/faculty/tanya-heikkila
William Swagerty
wswagerty@pacific.edu
University of the Pacific
History, archaeology, anthropology
History of agriculture, transportation and communication on the California Delta
View the geography of social science launch event attendees in map format via Datawrapper.
For more information or interested in joining the CoP, email Jessica Rudnick at Jessica.Rudnick@deltacouncil.ca.gov.
This virtual training will provide fundamental background on disciplines and approaches to social-ecological challenges. It will highlight case studies presented by social scientists and is intended for all scientists, managers, and practitioners interested in integrating interdisciplinary approaches into their work. Attending the training is encouraged, but not required, to attend the workshop. Register to attend the training via Zoom.
At this interactive virtual workshop, Community of Practice members will be paired with Delta collaborative science group members to co-develop mock proposals for interdisciplinary research projects that support the 2022-2026 Science Action Agenda. The workshop, followed by an optional in-person networking event, is designed for natural and social science researchers interested in the Delta. Register to attend the workshop via Zoom.
Learn about upcoming social science related events on the Council on the social science web page.